Mindset is the key to success in academics. Research and practice has shown time and again that mindset separates students more than any other factor. Yet, we hardly ever train it.
Think about it... How often do you intentionally train your mindset? How many hours per week do you work on your confidence, steadily increase your motivation, sharpen your goal setting, or ramp up your resilience?
How often do you work on content knowledge, practicing math problems or reading articles?
The difference is clear for so many students. We spend countless hours working through content with little to no thought about our mindset, which determines our ability to retain and use that content knowledge!
If you are sick of banging your head against the wall, studying harder and harder with no new results, this course is for you.
You will receive the skills to:
Shake off your nerves on big test days
Beat boredom and avoid distractions
Maintain a disciplined and healthy lifestyle that balances your academics with the rest of your life
Have unstoppable confidence and an attitude of success in all of your classes
Stay motivated and on top of your assignments
Still not sure? Consider these common red flags that have everything to do with mindset. If you are noticing these red flags, you can't study your way out of it. Only mindset training will impact these areas!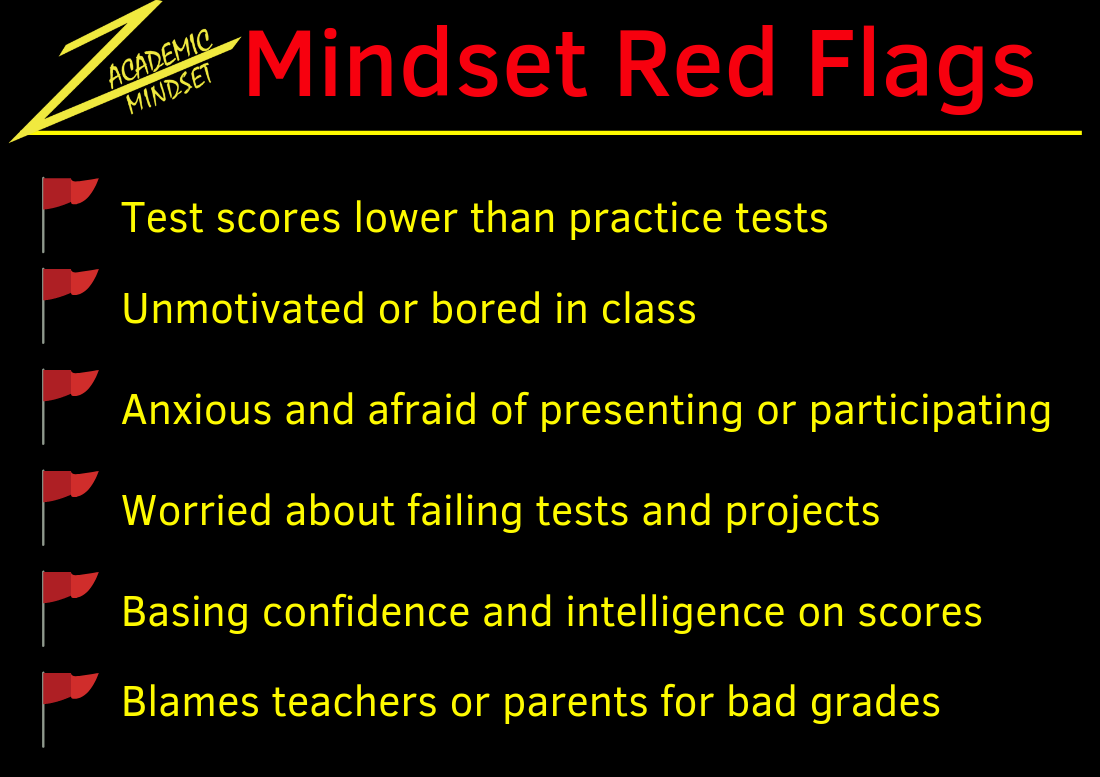 Dr. Kevin Leichtman (mindset expert, researcher, author, and educator) will lead you through over 2 hours of video lessons and 50+ activities expertly designed to strengthen your mindset. These research-based lessons give you all the tools needed to succeed at any level of school. These same skills translate to success in sports, clubs, work, and any other aspects of life.

Here are a few examples of students who have gone through the program and experienced tremendous results!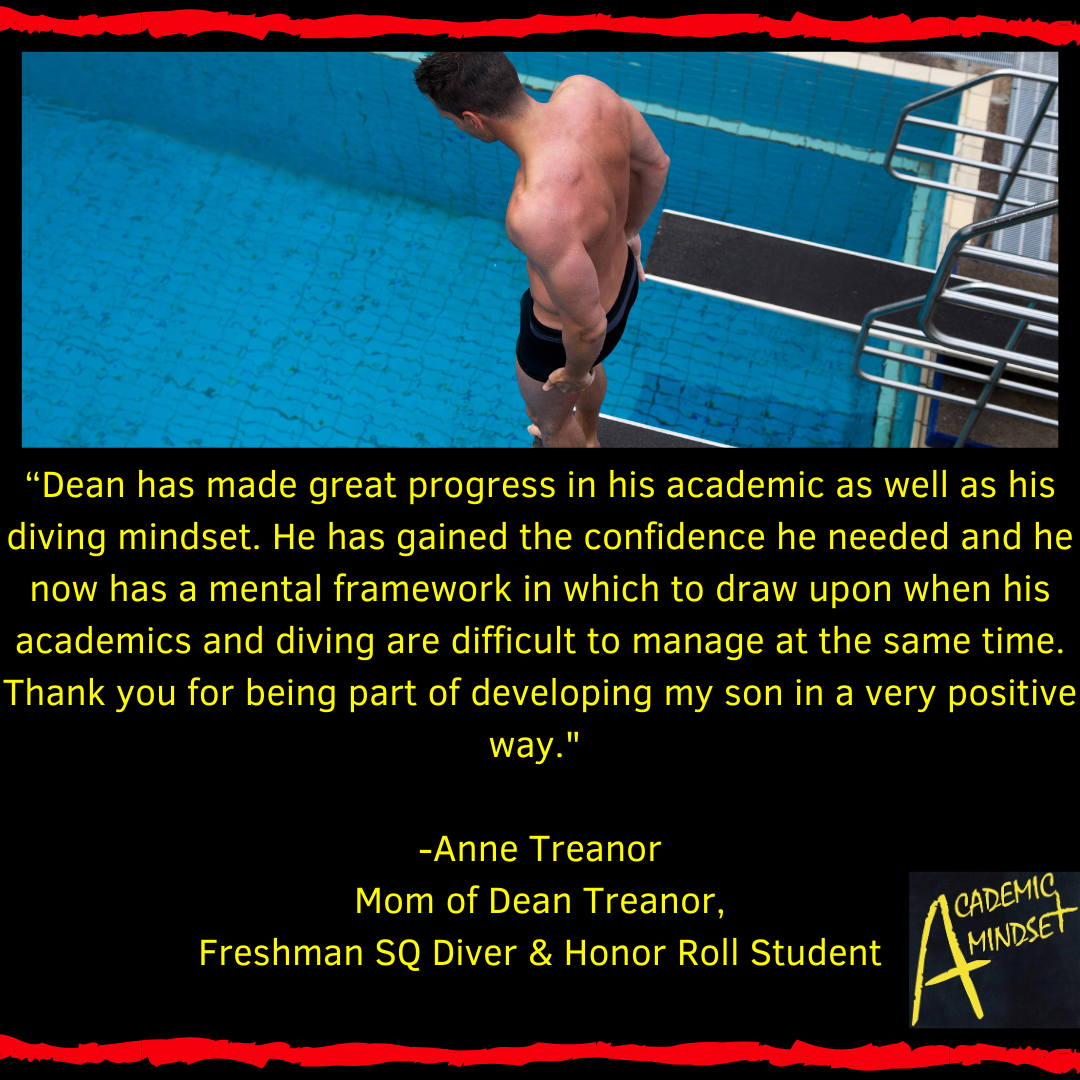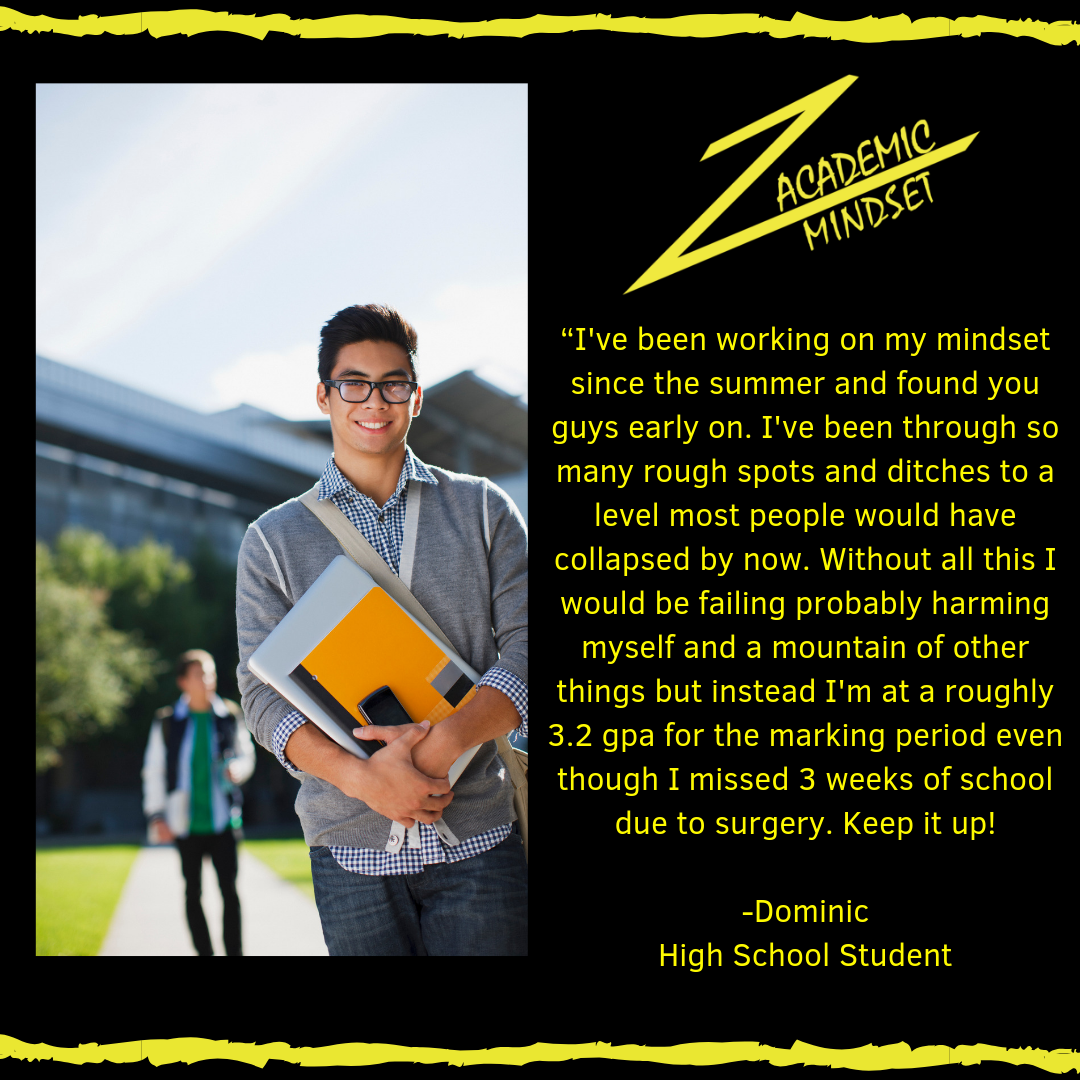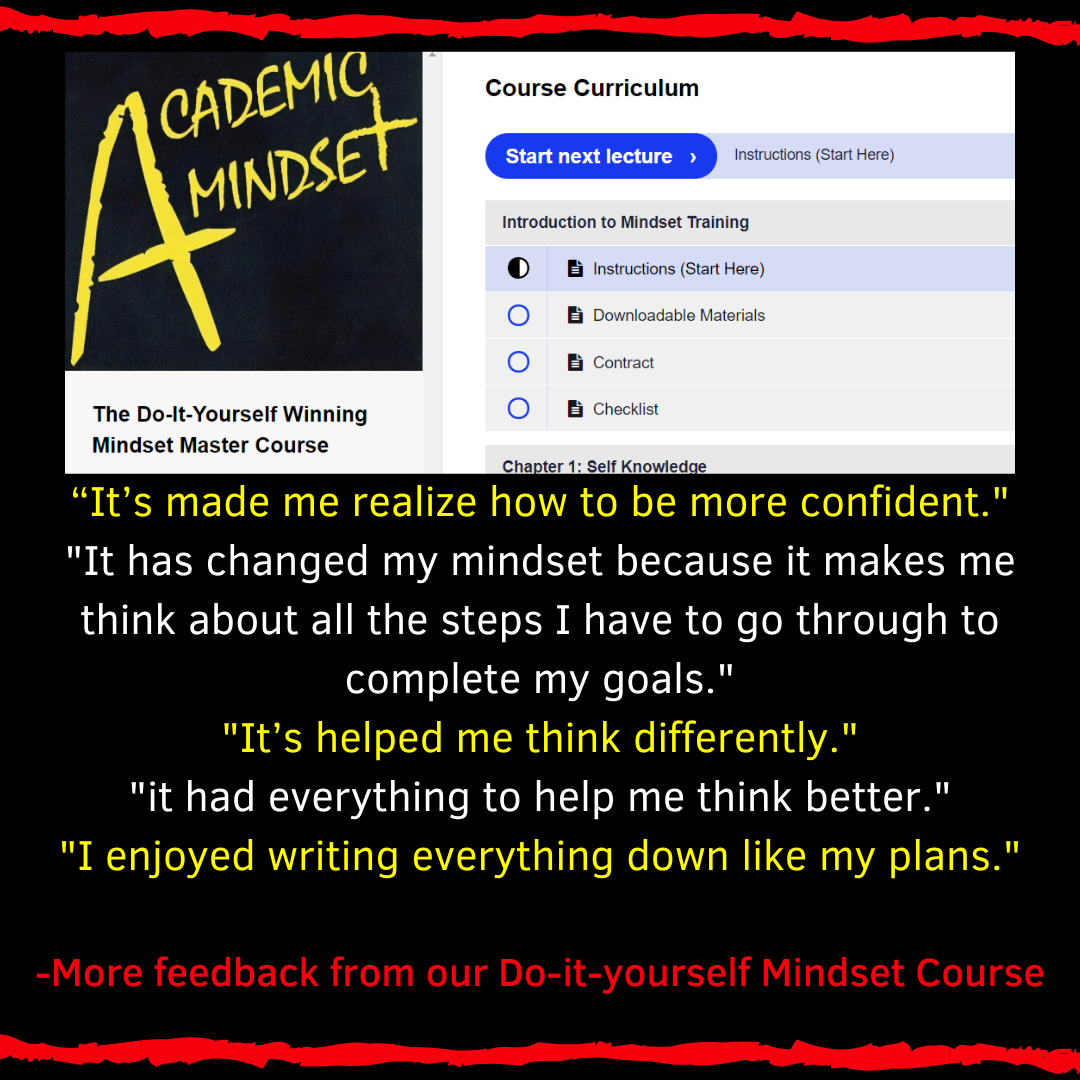 What you get:
A full curriculum with over 50 activities to sharpen your mindset for school and life
Webinars hosted by Dr. Leichtman throughout the school year to sharpen your mindset skills at critical moments of the school year
A direct line with Dr. Leichtman to be able to text questions & concerns about mindset throughout the school year
Scroll down to see a free preview of the curriculum!
Course Curriculum
Introduction to Mindset Training
Available in days
days after you enroll
Chapter 1: Self Knowledge
Available in days
days after you enroll
Chapter 2: Goal Setting
Available in days
days after you enroll
Your Instructor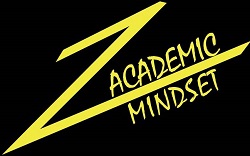 Academic Mindset was developed by Drs. Kevin and Anala Leichtman, adapted from the massively successful Wrestling Mindset program created by former nationally ranked, All-Ivy League wrestlers, Gene and Jeff Zannetti to help individuals and teams reach their full potential in sports, school and life.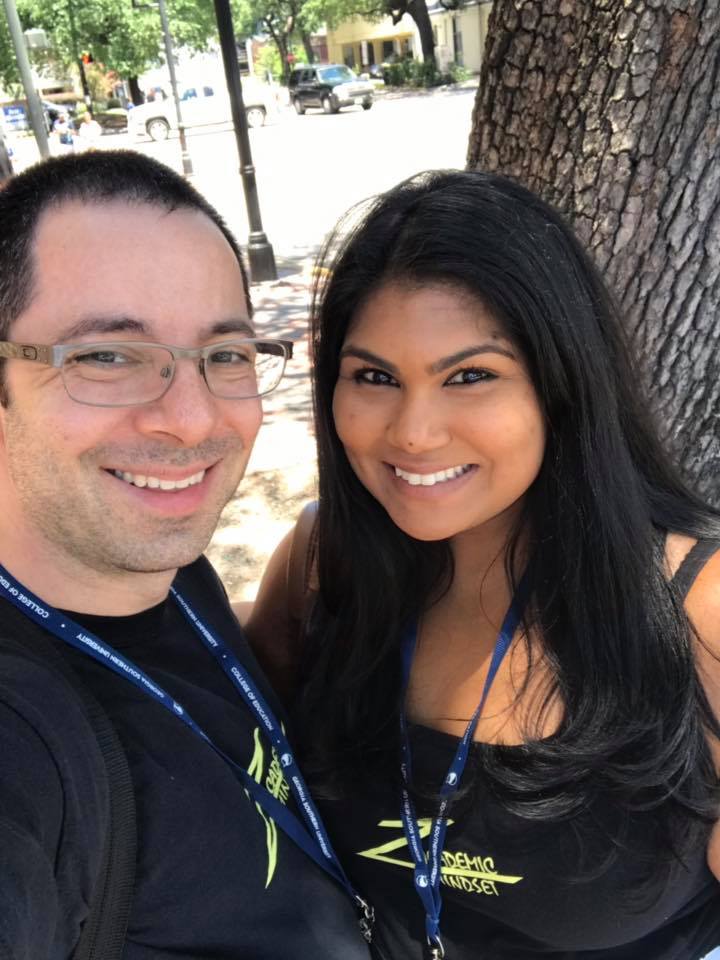 Dr. Kevin Leichtman is a published author & researcher who holds a Ph.D. in curriculum & instruction, researching teacher burnout and exploring the mindset of successful teachers. He also holds a M.Ed. in curriculum & instruction from Florida Atlantic University. He has been an English/Reading teacher for 8 years teaching every grade level from 7-12, including 5 years as a wrestling coach. He also serves as an adjunct professor at FAU. His work has been published in a textbook on andragogy and pedagogy and he has presented at several national education conferences on mindset training.

Dr. Anala Leichtman recently completed her doctoral degree in Curriculum & Instruction at Florida Atlantic University. Her dissertation was about teachers' experiences developing curriculum in English/Language Arts classrooms while working in a high stakes testing environment. She teaches global education courses at Florida Atlantic University for undergraduate and graduate students. She has encompassed 10 years of teaching experience at the Pre-K, high school, and college level.
Frequently Asked Questions
When does the course start and finish?
The course starts now and you will maintain lifetime access to it!
How long do I have access to the course?
You will have lifetime access to this course!